Aaptiv Review – A Hands-On Look at this Popular Fitness App
This post may contain affiliate links. If you click through a link and make a purchase, I may receive a commission at no additional cost to you. As an Amazon Associate, I earn from qualifying purchases. Read the full disclosure here.
Move over dusty collection of workout DVDs! Fitness apps are the new kid in town. And Aaptiv is one you won't want to miss.
Apps allow for an on-demand experience for virtually any type of fitness activity, on the go, from the privacy of your own phone.
A big part of consistency with fitness is mustering up the motivation to get your workout done.
Imagine if you didn't have to think about planning your workout?
Then take a look at Aaptiv. This fitness app is like having a personal trainer in your pocket with thousands of workouts ready when you are.
Never wander aimlessly through the gym again! (Or ditch the workout altogether because you don't want to think.)
In this review, I'll share some of the things I've learned from using Aaptiv for the past four years, and why I think it could serve a valuable place in your fitness routine.
All views are based on my own experience.
Disclaimer: Always seek proper instruction before initiating an exercise program. Not everything is great for everyone! Consult with your qualified health care practitioners for an exercise program tailored to your needs. Stay healthy and injury-free! Read the full disclaimer.
What is Aaptiv?
Aaptiv is a fitness app that offers audio-guided workouts for many different styles of exercise. They're also expanding into some at-home video workouts.
Check out this impressive line-up of workout options:
Treadmill
Outdoor running
Strength Training
Walking
Pilates
Elliptical
Indoor Cycle
Stairclimber
Barre
Yoga
Meditation
Stretching
Sleep
Within each category, you can choose the length of the workout, level of difficulty, trainer, and the genre of music/theme of the workout.
They also offer programs and challenges. At this time, they include:
Get Stronger
Lose Weight
Stay Fit
Run Faster
Reduce stress
Maternity
In the four years that I've been using the app, Aaptiv has been consistently adding fresh content, which is good because nobody wants to log in and see the same old options.
According to their website, they offer more than 2500 classes and add 30 new classes each week.
Instead of plugging away mindlessly on cardio equipment, try one of the virtual classes for treadmill or elliptical. You'll be much more engaged and get a better workout than binge-watching Netflix like a zombie.
A deeper look into Aaptiv
Each class is led by one of Aaptiv's certified personal trainers and features premixed music that supports the activity's cadence. After a while, you'll figure out which trainers you like. Jamie is one of my favorites.
The coach section of the app will suggest workouts for the day for you based on your goals. You can also schedule workouts and get reminders on your phone.
You can join virtual team challenges for that group comradery feeling. If you're looking for a social component, there's an option to connect with others on their fitness journey.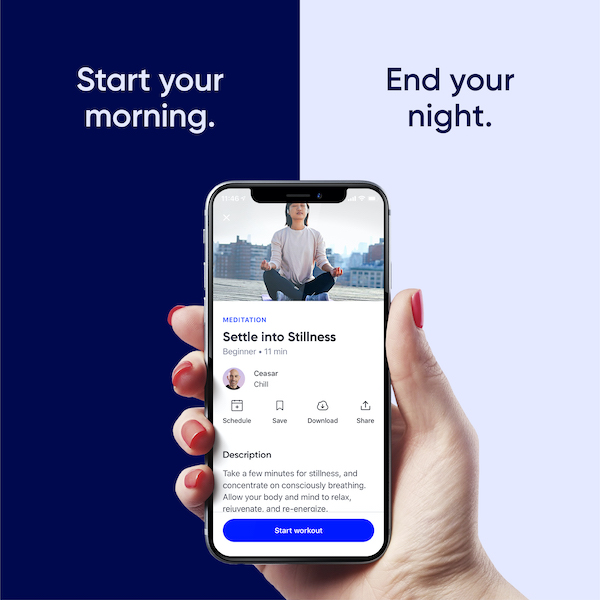 Who is Aaptiv for?
Aaptiv is for all fitness levels that want an easy way to stay consistent with workouts.
Aaptiv offers workouts from beginner to advanced, although absolute beginners may have difficulty with the audio format if you're not familiar with how to perform the exercises.
They have recently added a video component for some programs, such as strength training, Pilates, and yoga, which include form tips. Modifications are not always offered, so be prepared with some that work for you to avoid overdoing it.
Aaptiv is an excellent option for anyone who likes the idea of a personal trainer but doesn't want to interact with (or pay) for a personal trainer.
(Obviously, it's not a substitute for a truly personalized workout, but for those looking for a general done-for-you gym workout, Aaptiv fits the bill.)
PROS & CONS
Now let's get into one of the main reasons why you're here, the pros and cons.
Pros of Aaptiv
Because it's mostly audio, the workouts can be used either at home or at the gym. It has a more on the go feel than video-guided workouts. Audio only workouts have been a lifesaver when wifi has been too weak to stream a video.
Aaptiv has recently added a video component for some programs, such as strength training, Pilates, and yoga, which include form tips. This is an excellent addition for beginners to become comfortable with fitness movements.
Here are some other pros of using Aaptiv:
Access to 2500+ on-demand workouts
New workouts added weekly
Craft a balanced fitness program with a wide variety of offerings
Schedule workouts to improve your consistency and accountability
Choose a program based on your goals
Download workouts for offline use
Offers workouts of all lengths to accommodate whatever time you have to devote to fitness
Crystal clear sound quality, and you can easily hear the trainer's instructions
Preselected playlists with BPMs that match the workout, making it easy to find your groove
Workouts for cardio equipment like treadmills and elliptical machines (something I haven't seen on any other platform that I've used)
Affordable. Aaptiv costs $15 per month or $99 per year with a free 7-day trial. My readers can get a free 30-day trial here!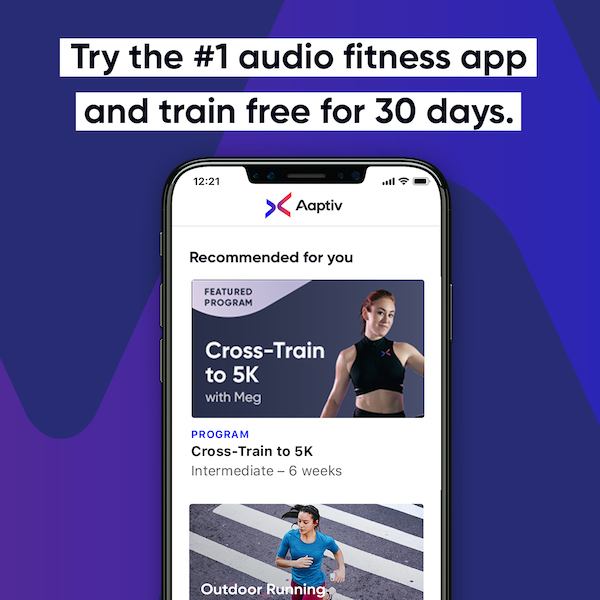 Cons of Aaptiv
As with any app, you will not receive feedback on your form, so make sure you understand how to perform movements properly and safely. This is not a con of Aaptiv, but a noteworthy disadvantage of all apps and video workouts. It's just not possible.
Modifications are not always provided, so be prepared with some that work for you to avoid overdoing it.
Some users feel it's a con that you can't use your own music. Personally, it doesn't bother me because they have eclectic options, and I just stay away from genres that aren't my jam.
Another potential con is that there isn't a free plan. You do, however, get a free 7-day trial and my readers can get a free 30 day trial with this link.
$15 per month or $99 per year is still way cheaper than private studio classes. However, a paid app means there are no pesky ad interruptions, and you can be sure you're getting quality content.
Other things to know
When you first sign up, you need to go through a brief survey about your fitness and goals before accessing workouts.
Personally, I wasn't looking for programs. I just wanted access to the workouts straightaway. However, after this survey, you're free to do whatever you want. This is very useful for those looking for more personalized plans. I would have liked the option to skip this step.
You can use Aaptiv on more than one device, but you can't be logged in to more than one at a time.
You still have to BYO motivation. Show up, press play, and do the work.
Final Verdict on Aaptiv?
Aaptiv offers an impressive amount of value for a low price.
If you struggle with the fitness equivalent of writer's block, using a fitness app like Aaptiv can take the guesswork out of your workout. It's as easy as hitting play on your phone.
Aaptiv is definitely worth checking out, even if you just do the free trial to see if it works for you.