This page contains affiliate links. I'm part of the lululemon collective and will receive a commission if you make a purchase through the links below. As an Amazon Associate, I earn from qualifying purchases. Read the full disclosure here.
Holidays that involve presents seem to sneak up on us and finding the perfect gift can be tricky.
Never be stumped again with this list of creative gift ideas for your favorite yoga enthusiast!
Don't forget to check out which retailers are offering cash back through Rakuten. Use my referral code to earn up to a $30 bonus on your first qualifying purchase just for signing up.
lululemon Align leggings
Nothing beats a pair of leggings that perform great during your practice – so you can focus on your yoga instead of constantly adjusting your pants.
The lululemon Align leggings are becoming the new go-to yoga wear, and for good reason.
When I say these leggings are buttery soft, that's an understatement.
Made from sweat-wicking, weightless feeling, breathable Nulu fabric, these are some yoga pants that you'll never want to take off!
(Thanks to athleisure being a thing, you might not have to.)
They also come in lots of colors and lengths (even shorts) to round out your collection so you can have a pair for every day, no questions asked!
If you're stumped on sizing, you could always grab a lululemon gift card.
K-deer leggings
Every time I wear these leggings, I'm bombarded with questions. Not only are they super fun, but they also perform well, no matter what the activity.
The material is a little different than your average leggings. It's almost like a bathing suit-type material, which means they're awesome at wicking sweat. They're also very useful for activities that you might get wet, like paddleboarding.
K-Deer was a local company to me when I worked in Westwood, NJ. I've built up quite the collection and have been wearing the brand for over six years.
As a bonus, their signature stripes line donates 5% to various charities that support health & wellness, children's causes, animal welfare, and environmental issues. Each stripe supports a different cause.
If you like to let your personality shine through your leggings, check out K-Deer and strike a yoga pose!
Allbirds tree breezers slip-ons
You know how some people just look effortlessly put together?
For a super comfy and cute to-and-from the studio option, check out the Allbirds Tree Breezers slip-on.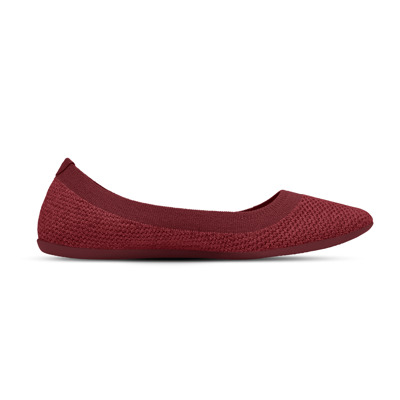 After several fails with beautiful but terribly uncomfortable flats, I quit throwing away money. Then brands like Rothy's and Allbirds entered the game with attractive shoes that don't give you a blister by 8:32 am.
The Allbirds Tree Breezers are ballet flats that are actually comfortable and made from sustainable eucalyptus tree fibers. The best part? They're machine washable!
Scoot from the studio to drinks (or wine on your couch) in style.
Yoga Download subscription
If you're looking for an affordable yoga app for all levels, check out Yoga Download. With Yoga Download, you get access to over 1700 yoga classes for all levels, with new content added weekly.
They have an easy-to-follow menu with lots of options for beginners. Choose a class by yoga style, length, instructor, focus/goal, and more. Yoga Download offers programs and challenges with different themes to get you in the habit of a regular yoga practice.
There are helpful resources for beginners, including a guide to all different yoga styles, a pose guide (which you don't need a membership to access), and workshops for technique.
Yoga Download offers a 2-week trial for $1 so you can check out all their offerings. After that, you can have a month's worth of unlimited yoga for the price of one studio class.
Save 50% off Yoga Download Monthly Online Yoga Packages here.
They also have some free content on their YouTube channel.
They allow unlimited streaming and free downloads. I know this sounds silly, but I've paid for fitness apps before, where downloading content costs extra on top of the streaming service – which is not cool. So, if you travel a lot or your wifi is spotty, you'll still be able to access your content.
Also check out:
Yoga towel
You don't need to be in a hot yoga class to enjoy a mat towel. Yoga towels are very useful for keeping your mat slip-free. Everyone has different levels of sweatiness and responds differently to so-called non-slip surfaces.
A yoga towel can turn any mat into a skid-free zone.
For the traveling yogi, a towel offers an easy travel surface to keep your practice going while taking up minimal space in your suitcase.
They're also lightweight and fast drying. Useful over a yoga mat and conveniently the right size to cover a lounge chair – just sayin'.
My favorite yoga mat towel is the Manduka equa towel, made of lightweight microfiber material. The Manduka yogi toes towel is also a popular alternative, sporting non-slip numbs on the bottom side. Both are available on Amazon, but the Manduka website sometimes has more color options.
Amazon also has some super affordable yoga mat towel options. You can grab hand towel sizes or full mat sizes.
No matter what you choose, I'm sure you'll be happy you picked up a mat towel.
lululemon yoga mat
Kind of like shoes, you know you can never have enough mats.
If you're new (or have a new yogi friend), you may not have taken the plunge to invest in a good quality mat. But let me tell you, they are well worth the price, so put one on your list.
Think about quality features like padding and traction. Nothing ruins a yoga practice faster than sweaty hands and feet sliding all over (to the point that you can't focus on anything else.)
Definitely check out the lululemon Reversible Mat.
Two of my other favorites are the Jade Harmony and Manduka Pro. You can read my experience with these three mats in 3 Outstanding Yoga Mats For Sweaty Hands.
Yoga bolster
Bolsters are tremendously helpful to support the body for restorative practices or props during Savasana.
The filling for these props is made from a variety of materials that vary by brand from synthetic, recycled, or natural materials like buckwheat. The filling material may determine the level of support.
Yoga blankets and bolsters are essential for any restorative yoga, meditation, or yin yoga practice.
Amazon and Yoga Outlet are great places to find a selection of yoga bolsters.
Cork yoga blocks
After a good quality mat, blocks should be the next yoga prop on your radar to get the most out of your practice.
Such a simple design provides endless options to support, deepen, and add dimension to any practice from beginner to advanced.
Blocks have many benefits, including bringing the floor to you and creating more space to tailor poses to what feels good in your body.
Last Christmas, I got myself a set of Manduka cork blocks to upgrade from my 10-year-old Hugger Mugger foam blocks. While cork blocks are a little more dense, they feel really luxurious, like I'm in a yoga studio at home.
I still use my foam blocks, especially for things like supported bridge, when the cork is a little too firm.
Yoga strap
A yoga strap can help you extend your reach and can be a real lifesaver for sensitive tissues.
When you can reach further without compromising form, there will be less strain and range of motion required from your knees (and other joints), allowing you to adapt any pose to your comfort level.
Yoga anatomy book
Anatomy and physiology can be intimidating, especially to new yogis.
As a physical therapist and yoga teacher, I love encouraging people to get to know the body in an easily digestible way. Understanding how the body works can not only help your practice but prevent injuries as well.
The Science of Yoga breaks down the anatomy of basic and intermediate poses with fascinating illustrations to help you visualize movement from the inside out. Having a deeper understanding of the body will help you build that connection to your mind, instead of just going through the motions.
This book is a must-read for the beginner or intermediate yoga practitioner! It comes in a physical book and Kindle version, which is an awesome gift idea for the yoga lover who's also trying to declutter.
For those looking for a more advanced look into anatomy and physiology as well as traditional yoga philosophy, Yoga Anatomy by Leslie Kaminoff and Amy Matthews is a solid resource.
Anatomy Trains by Thomas Myers takes a deep dive into anatomy and physiology, fascia, and movement for even more advanced anatomy.
Savasana eye pillow
Want to make your Savasana even more relaxing? Try adding an eye pillow to the mix.
Not only does this eye pillow block out light to add to your relaxation, but the subtle weight of the pillow also helps to relax eye and face muscles, relieving tension from our fast-paced, digital lives.
Toss this in your yoga bag and your next Savasana will be amazing!
Be prepared for any occasion with the perfect yoga gift. Be sure and let me know which of these gift ideas for yogis is your favorite!